Puzzle_Pieces_Super_Event is a new type of Super Event, which clearly still is at an experimental stage. This is a corporate event, during which a corporation needs to produce as many pieces of a certain item as they can. I call the event experimental because it's almost impossible to complete the puzzle. During the first event after some time the pieces stopped coming. During the second event the pieces were rewarded to the products of the first event. Only after a day (and many complaints - I suppose), the products of the current event were rewarded.
The first of these events came out in October. The products required were:
Plywood
Thickener
Wax
Aluminium
The second of these events took place at the end of november 2016.
The products in question were:
Batteries (30 pts)
Scarfs (20 pts)
Fruit cheese curd (20 pts)
Chiffoniers (50 pts)

Mayor have you heard about the new event? Complete contracts, earn points, and send your ratings skyrocketing to the top!
Fabulous prizes await the winners.
Fabulous Prizes
Edit
Different cases can be earned by producing the required amout of a certain item. Maybe that are the fabulous prizes mentioned. There are 3 types of cases:

By producing the products listed above, the player sometimes receives a puzzle piece. The drop rate is unknown yet. 24 pieces are needed to complete the puzzle.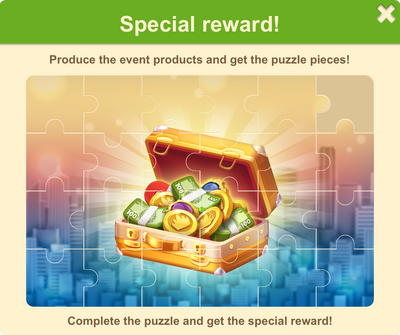 It is unknown what the content of the special reward was. But after complaining I got:
15 Investor's Briefcases
10 Golden Details
100 VIP points certificate
10 city credits

Investor's Briefcase
Community content is available under
CC-BY-SA
unless otherwise noted.