| | |
| --- | --- |
| Available at level |  ? |
| Territory | 2x2 |
| Buildings allowed to build | 1 |
| Electricity | 220 |
| Yields Citizen's Happiness | 350 |
Blueprints
Edit

Used to construct unique buildings
Building a house isn't that simple and you need a good blueprint. Blueprints will be stored at the warehouse and can be used anytime.
Blueprint of
Icon
Required Ingredients
Costs
Time
Available on iPad
Available on Windows PC
Available on Windows Phone
Dove of Piece

5000
8 h
X
X
X
Cafe Sea Wanderer

1 Blue Form
4 Green Forms
2 Yellow Forms

9000
16 h
X
X
X
Restaurant Fast and Furious

2 Green Forms
1 Yellow Form

7000
12 h
X
X
X
Rhodes Mansion

25 Black Forms
50 Red Forms
40 Green Forms

50,000
2 d 8 h
X
X
Babylon Center

10 Black Forms
60 Red Forms

25,000
2 d
X
X
Rhodes Villa

3 Blue Forms
12 Green Forms
6 Yellow Forms

15,000
1 d 12 h
X
X
X
Magnate Hotel

40 Black Forms
100 Red Forms

75,000
3 d
X
X
Ingredients
Edit

Ingredients
Description
Costs
Time
Required Ingredients

Ceramic Tiles

Great tiles from top designers! Coat the walls of any room and it will impress your Guests. Also it doesn't let mold to spread!

30,000

4h
2x Sand, 1x Granite
Bricks
Brick is the most reliable building material. It keeps the warm inside and has refined red color. You don't even have to extra decorate it!

25,000

5

h

2x Sand, 1x Limestone

Microchips

Required for the production of unique modules. Only skilled masters from the Design Office can create such a sophisticated device. There is no substitute for microchips in the creation of modules.

2000

4h
2x Green Forms

Facade Plastic

Required for production of Module

Quality plastic designed for sturdy, modern, and sleek building design.

50,000
8h
3x Plastic, 2x Dye
Gastronomic Complex
Edit

A perfect solution for a business person!
Popular contracts in one factory! Complete contracts without usual production chain and save some time. Choose the list of contracts that you need at any time just by pressing the button.




The Gastronomic Complex seems to be some kind of super-factory, which is able to produce the goods listed below: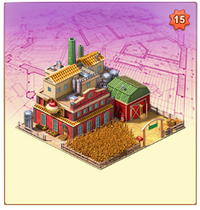 Community content is available under
CC-BY-SA
unless otherwise noted.