The administrative building is part of the city from the beginning. It cannot be bought from the shop or demolished.
The administrative building has to be updated in order to have more buildings in the city.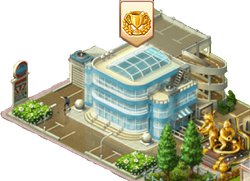 The Administrative Building also gives the player access to
Achievements
and
Achievement Rewards
. When an Achievement is accomplished, an achievement icon will be show above the building, as shown here.
| | |
| --- | --- |
| Available at level | 1 |
| Territory | 3x3 |
| Buildings allowed to build | 1 |
The administrative building will need to be upgraded one level in order to complete the River Bridge project.
Upgrades
Edit
Building
Level
Total Allowed
Buildings
Upgrade Costs
Upgrade Time
Yields
Experience
1
17
+20 
2
22
2,000 or 5
2 m
+20 
3
27
3,000 or 5
5 m
+20
4
32
6,000 or 7
10 m
+20
5
37
12,000 or 10
15 m
+20
6
42
20,000 or 12
30 m
+20
7
47
25,000 or 14
45 m
+20
8
52
30,000 or 15
1 h
+20
9
57
35,000 or 16
1 h 20 m
+20
10
62
40,000 or 18
1 h 40 m 
+20
11
67
45,000 or 18
2 h
+20
12
72
50,000  or 20 
2 h 30 m 
+20
13
77
56,000  or 20
3 h 
+20
14
82
62,000  or 22
3 h 30 m 
+20
15
87
68,000  or 22
4 h 15 m 
+20
16
92
74,000 or 23
5 h
+20
17
97
80,000 or 23
5 h 45 m
+20
18
102
87,000 or 23
6 h 30 m
+20
19
107
94,000  or 25
7 h 30 m 
+20
20
112
101,000  or 25
8 h 30 m 
+20
21
117
108,000 or 25
9 h 30 m
+20
22
122
115,000  or 25
10 h 30 m 
+20
23
127
123,000 or 25
12 h
+20 
24
132
132,000 or 28
13 h 30 m
+20 
25
137
142,000 or 28
15 h
+20
26
142
153,000 or 28
16 h 30 m
+20
27
147
165,000  or 28
18 h 
+20
28
152
179,000 or 28
20 h
+20
29
157
195,000 or 28
22 h
+20
30
162
213,000 or 28
1 d
+20
31
167
233,000 or 30
1 d 1 h
+20
32
172
255,000  or 30
1 d 2 h 
+20 
33
177
279,000 or 30
1 d 3 h
+20 
34
182
305,000 or 30
1 d 4 h
+20 
35
187
334,000 or 30
1 d 5 h
+20 
36
192
366,000 or 30
1 d 6 h
+20 
37
197
401,000 or 30
1 d 7 h
+20 
38
202
439,000 or 30
1 d 8 h
+20 
39
207
480,000  or 30 
1 d 9 h 
+20 
40
212
524,000 

or 35 

1 d 10 h 
+20
41
217
571,000 

or 35 

1 d 11 h 
+20 
42
222
622,000

or 35

1 d 12 h
+20
43
227
677,000

or 35

1 d 13 h
+20
44
232
736,000

or 35

1 d 14 h
+20
45
237
799,000

or 35

1 d 15 h
+20
46
242
866,000

or 35

1 d 16 h
+20
47
247
938,000

or 35

1 d 17 h
+20
48
252
1,015,000

or 35

1 d 18 h
+20
49
257
1,097,000

or 40

1 d 19 h
+20 
50
262
1,184,000 or 40
1 d 20 h
+20 
51
277
1,276,000 or 50 
2 d
+20
52
287
1,371,000 or 50
2 d 2 h
+20
53
297
1,466,000 or 50
2 d 4 h
+20 
54
307
1,561,000 or 55
2 d 6 h
+20
55
317
1,656,000 or 55
2 d 8 h
+20
56
327
1,751,000 or 55
2 d 10 h
+20
57
337
1,846,000 or 60
2 d 12 h
+20
58
347
1,941,000 or 60
2 d 14 h
+20
59
357
2,036,000 or 60
2 d 16 h
+20
60
367
2,131,000 or 65
2 d 18 h
+20
61
377
2,226,000 or 65
2 d 20 h
+20
62
387
2,321,000 or 65
2 d 22 h
+20
63
397
2,416,000 or 70
3 d
+20
64
412
2,511,000 or 70
3 d 2 h
+20
65
432
2,606,000 or 70
3 d 4 h
+20
66
457
2,701,000 or 75
3 d 6 h
+20
67
487
2,796,000 or 75
3 d 8 h
+20
68
522
2,891,000 or 75
3 d 10 h
+20
69
562
2,986,000 or 80
3 d 12 h
+20
70
607
3,081,000 or 80
3 d 14 h
+20
71
657
3,176,000 or 80
3 d 16 h
+20
72
712
3,271,000 or 85
3 d 18 h
+20
73
772
3,366,000 or 85
3 d 20 h
+20
74
837
3,461,000 or 85
3 d 22 h
+20
75
907
? or ?
? d ? h
+20
76
982
? or ?
? d ? h
+20
77
1062
3,746,000 or 90
4 d 2 h
+20
78
?
? or ?
? d ? h
+20
79
1332
? or ?
? d ? h
+20
80
1347
4,126,000 or 100
4 d 10 h
+20
81
?
? or ?
? d ? h
+20
Before March 2016, the Administrative building did not have a billboard: